DisplayMate uses any Laptop or Desktop computer to generate specialized proprietary test patterns for setting up, adjusting, calibrating, and testing any type of display or imaging device that can be connected directly or indirectly to a computer. This includes all computer and video monitors, projectors, HDTVs, mobile displays, color printers, and all types networked video. DisplayMate supports all analog and digital displays, connections, and signals including digital HDMI and DVI, Analog VGA and Component Video, and all display technologies including LCD, Plasma, CRT, DLP, LCoS and OLED.
DisplayMate is designed to help anyone - both novices with no technical knowledge as well as experts achieve the highest possible optimum image and picture quality. Use it to improve and check on every aspect of display image and picture quality performance, such as image sharpness, geometry, resolution, contrast, color and gray-scale accuracy, and image artifacts.
DisplayMate's Outstanding Industry Recognition, Reviews and Awards:
Widespread praise from the top display and video industry organizations, publications and professionals.


Read this impressive list of testimonials to DisplayMate's Excellence and Outstanding Performance
How DisplayMate Works:
DisplayMate works by presenting a sequential slide show of specially designed very sensitive proprietary test pattern images. Each test pattern has a single very specific function to perform.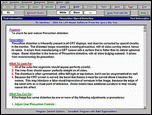 You simply view them one at a time and follow the easy step-by-step on-screen instructions, expert advice and guidance that accompanies each test pattern, as shown on the left. You make the adjustments interactively on-screen by using the built-in hardware adjustment controls provided by the display manufacturer, generally with a remote control or panel menu buttons.
The specialized DisplayMate test patterns are designed primarily for visual adjustments by eye, but many DisplayMate products also include proprietary test patterns for use with measuring instruments if you have them. The DisplayMate test patterns are automatically drawn real-time for the true native resolution of each display by using advanced mathematical equations, not by reconstituting a fixed set of previously stored images as in most other calibration products. With DisplayMate the result is a complete state-of-the-art optimization with your monitor, projector and HDTV performing at its absolute best.

How Other Products Work:
Compare the above professional reviews for DisplayMate to any other calibration product you are considering. None will match or even come close to DisplayMate -- most are products produced by programmers who are not display technology experts, which have inaccurate generic test patterns and useless high-tech gimmicks. Note that products which claim to perform an automatic calibration using software profiles or perform their calibration by using software driver adjustments will introduce lots of color and gray-scale artifacts and decrease image quality. The hardware adjustments recommended by DisplayMate increase rather than decrease image quality and accuracy. The inexpensive sensor pucks included with some products are not accurate, especially with LCDs and produce incorrect results. Finally, don't spend thousands of dollars for Test Signal Generators that have a small set of outdated 30-year old generic test patterns, when DisplayMate offers a substantially more powerful and larger set of innovative and proprietary test patterns, and costs substantially less.

  Click on the Thumbnails to see sample test patterns from all of the DisplayMate Editions. All DisplayMate products include over 100 Test Patterns. Most of the time you will need only a small number, but the large library of test patterns will help you deal with any display issue or problem that may arise.
| | |
| --- | --- |
|   | To use DisplayMate to calibrate your HDTV you'll need to connect it to a Windows PC. Fortunately, that's now pretty easy. Once you do this your HDTV will show your Windows Desktop and can then function as a giant PC Monitor so you can watch all of your applications on the HDTV. |

Click here for information on calibrating your HDTV with DisplayMate
For Novices and Experts:
There are DisplayMate products for both Novices and Experts: if you are a Novice user DisplayMate has an optional Novice Mode with a special set of light and simplified instructions and patterns. The New York Times said "DisplayMate is a remarkable new utility program that is easy to install and use and is actually quite fun to watch." If you are an expert DisplayMate will provide you with the most powerful and sensitive video diagnostic test patterns available anywhere. BYTE Magazine said "DisplayMate Rivals $25,000 worth of Test Equipment."
Selection Guide:
The next step is to select the best product for you from the DisplayMate productline. There are Editions designed specifically for end users, novice consumers, advanced professionals, and versions for special applications.


DisplayMate Product Selection Guide with Features and Comparisons for all DisplayMate products
| | | |
| --- | --- | --- |
|   Order Online or by Phone | | Shipped or Internet Delivery   |